Go to

Birgitte's Exquisite Handknits, LLC
Thank you for visiting my website!

Next Page
Birgitte has been knitting since the young age of 4 and started designing her own patterns and clothes by the time she turned 10 years old. At the age of 15 she taught herself to sew and started combining these skills in the form of fancy sweaters and coats for her family members. In high school her art teacher discovered her incredible talent for drawing and took her to the Academy for Beeldende Kunsten where she was later educated. Her handknit sweaters have sold in numerous high end boutiques along the East Coast of the United States and are now selling in Aspen, CO.
Her color palette is vivid yet warm and this combination of rich colors make her creations stand out. While her artistic eye guides her in the overall esthetic appeal, she spends a great deal of time on detail, looking to make handmade and handknit clothes beautiful as well as interesting. Her number one goal is to create attractive, versatile, unique, yet flattering and stylish designs for women while using high quality yarns and fabrics. She custom blends yarns for each and every garment to provide added depth, stretchability, and increased warmth to her mostly cotton apparel. The majority of her line of clothing is machine washable, dryer safe, and incredibly durable. Enjoy the show!!
628
214 Tunic
P102 Pant
P108 Pant
P103 Pant
P107 Pant
Now selling at Faboo, located in the heart of beautiful Aspen, Colorado,
For information contact the owner:
Monika Oginski at 930-343-0602 or
Birgitte Rauer, owner of Birgitte's Exquisite Handknits, LLC at 215-530-3910
106
625
625
215
617
627
DHD103
S201 Skirt
214
502R
303
103
405
307
109
628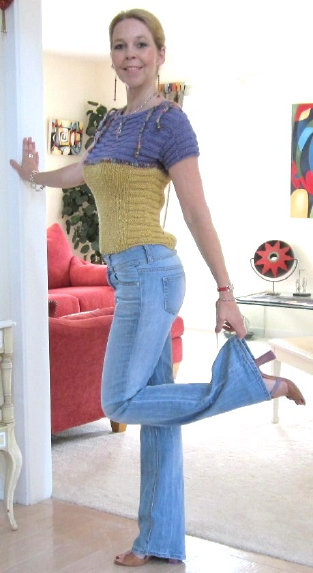 615
610
403
305
213
212
211
809
305A
502A
306
626
303
406B
DHD102
402
003
105